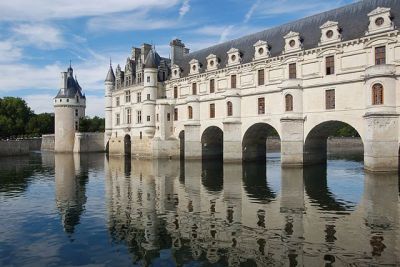 The 5 unmissable châteaux of the Loire
The Grand Hotel Château du Loir is ideally located in the Loire Valley for you to discover the châteaux of La Loire, we have selected the 5 must-see châteaux during your stay!
Chenonceau Château
The Château de Chenonceau is the second most visited château in France, after that of Versailles. It is an exceptional monument with a remarkable history linked to Catherine de Medici and Diane de Poitiers. Today the Château de Chenonceau can be visited all year round where you can enjoy refined cuisine in its restaurant, discover its wax museum and its magnificent gardens!
Azay-le-Rideau Château
One of the must-see châteaux of the Loire, the château of Azay Le Rideau has dazzling architecture, built with noble materials and has fantastic interior decorations and furniture. An authentic masterpiece of the Renaissance, the Château d'Azay Le Rideau combines Italian architecture with the art of French building. By visiting it you will know everything about its history as well as the Royal history of France.
Chambord Château
The Château de Chambord and its estate await you for a getaway in the heart of nature. Considered the jewel of the Loire Valley, visit the most prestigious of the Renaissance castles. Opening the doors of the château you will learn all about its history with a free or guided visit. The Chambord forest also offers a real moment of escape with 1,000 hectares where animals live in complete freedom.
Royal Château of Amboise
The château of Amboise tells its history as well as the destiny of its inhabitants. At this royal château you will discover the height of French refinement. You will also follow in the footsteps of the genius Leonardo da Vinci, who today rests in the château's chapel. Enjoy a privileged moment by visiting the towers and underground passages of the royal castle of Amboise, by reservation only.
Villandry Château
The Château de Villandry and its gardens, is a real gem built on the banks of the Loire. Very well known for its magnificent three-level gardens, the Château de Villandry is the last of the family of Renaissance châteaux. Pass through the water garden where the fountains and the pond are the main elements of this peaceful garden. The castle's vegetable garden combines flowers and vegetables in a show of colors. And the ornamental garden will charm you with its softness and multiple symbols...