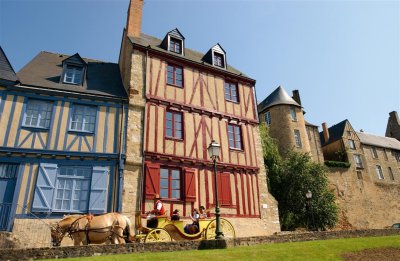 Le Mans
Well known for its legendary 24 Hours of Le Mans race, the city of Le Mans is also a city of Art and History with a rich heritage...
Le Mans, the Plantagenet city
Le Mans is a historic city, over 1,700 years old. Named city of Art and History, Le Mans offers much architectural heritage and history to discover. Its Roman enclosure and its wall which protects the heart of the city, offer a glimpse of life at the end of the 3rd century.
The " Cité Plantagenêt " which is the historic heart of Le Mans is very well preserved and allows you to travel back in time to the Middle Ages. Note that the Plantagenet city was and still is the ideal authentic setting for the filming of period films.
The 24 Hours of Le Mans circuit
Le Mans is world famous for its 24 Hours of Le Mans racing circuit. Being one of the oldest car races in the world, it attracts professional and amateur drivers. Covering 4,500 km in 24 hours is a challenge that many wish to take up every year! Today the 24 Hours of Le Mans has more than 80 editions, 56 cars at the start and 250,000 spectators.
The 24 hour museum
During your visit to Le Mans, the 24 Hours of Le Mans Museum tells you the story of this great race. Retrace the evolution of the automobile through collectibles, exceptional cars and unique documents! In 6 spaces you will learn all about the history of the circuit, the emblematic characters who took part in this epic race, behind the scenes, passing through the legendary cars that have traveled the circuit of the 24 Hours of Le Mans .
Epau Abbey
The Abbaye de l'Epau, classified as a historical monument , is one of the finest examples of Cistercian architecture in France. Visit and relive all the history of the abbey founded in 1229 by Queen Berengaria of Navarre, widow of Richard the Lionheart and discover the architecture of the 14th century abbey church and the monks' dormitory and enjoy the beauty of the 13 hectare park.
Papea
Papea Parc is more than 35 attractions to share with family or friends, near Le Mans. From the traditional carousel to thrill rides, there is something for all ages to enjoy.